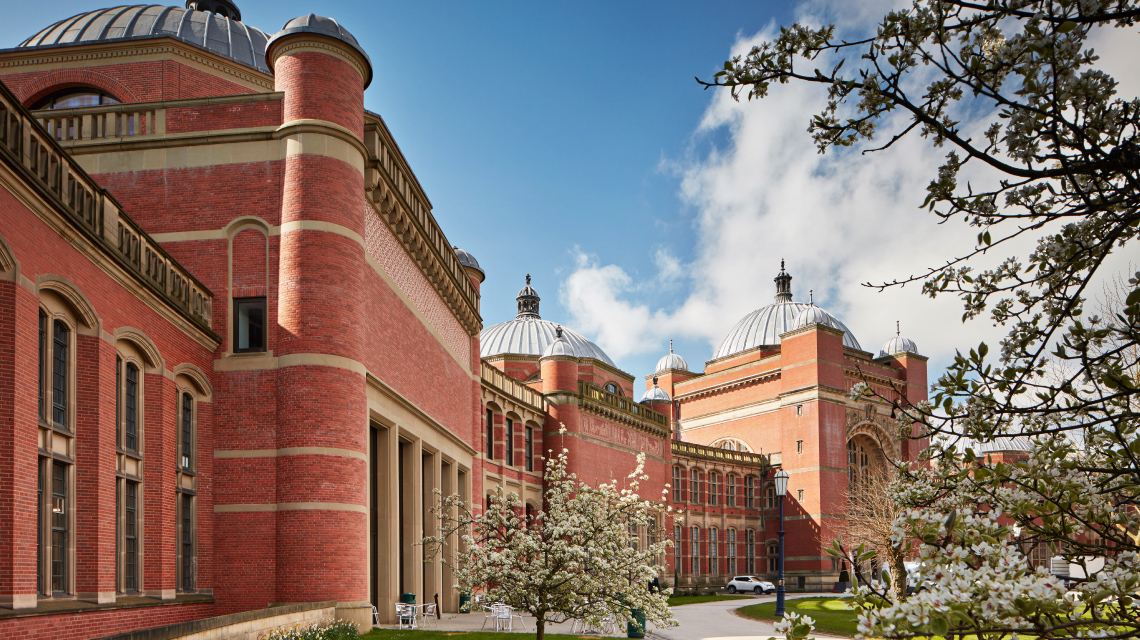 Call for Papers
AM2023
From Revolution to Revolutions
University of Birmingham, 3-6 July 2023
FINAL SUBMISSION DEADLINE HAS NOW PASSED, PAPER DECISIONS HAVE BEEN SENT OUT
The theme of the Academy of Marketing Conference 2023 is "Revolution", which allows us to reflect on changes and shocks that require us to think and act differently as well as opportunities for us to consider the need to revolutionise marketing theory and practice. As we continue to face environmental, social, political and economic challenges, it is time to take stock and propose ways to ensure that our theorisation, practices and research methods are open to new ways of doing things. Some of these 'new' approaches might mean seeking out 'old' or dismissed systems of knowledge or ways of doing things that have been pushed aside. Others may require different ways of thinking about things, harnessing new technological developments or new material practices in order to do things better.
The Department of Marketing at University of Birmingham invited colleagues to submit their best and most exciting work to the 2023 Academy of Marketing Conference at University of Birmingham.
Birmingham, the second city of the UK, is an ideal place to be when thinking about Revolution. It tends to underplay its influence, power, and cultural history relative to the capital. Yet, Birmingham is located at the heart of the country and the industrial revolution. The natural resources available in the local area, the canal network that allowed goods to move through the country and the diverse population attracted to the area as a result of colonial expansion, the availability of employment and incentives for migration, resulted in a culturally and materially rich city. Similarly, marketing as an academic field can often be overlooked in favour of the more foundational social sciences such as economics or psychology when policy makers or practitioners seek out frameworks to illuminate issues or propose alternative strategies. As a field which draws on a broad range of scholarly disciplines such as sociology, psychology, economics, geography, cultural studies, the humanities as well as the hard sciences, we are well placed to offer insight.
Birmingham has come a long way from its industrial heritage. Now more home to the service industries than heavy industry and racketeers, Birmingham has much to offer. With over 100 miles of canal navigation, Birmingham has more canals than Venice. Although portrayed in the notorious Peaky Blinders as dismal waterways, forged on poverty and toil, today they are flanked by trendy warehouse apartments, designer shops, and a vast variety of eateries and bars. We are home to Europe's largest urban park outside of a capital city, and with over 8,000 acres of parks and green space, Birmingham is one of Europe's greenest cities. And for the foodies among us, we have the most Michelin Star Restaurants in the UK outside of London.
We highlight the centrality of Birmingham and the broader region in pushing forward clean energy, punching above its weight in the video games industry, housing the UK headquarters of leading professional services firms and a network of internationally renowned cultural organisations such as the Birmingham Royal Ballet, the Birmingham Symphony Orchestra, the ICON gallery and our own Barber Institute. Birmingham Museum and Art Gallery has the world's largest collection of Pre-Raphaelite paintings. Birmingham was also the host of the Commonwealth Games in August 2022. Given these cultural, technological and aesthetic changes that the city has undergone, the theme of the 2023 conference is Revolution.
We invited colleagues to consider specifically how concepts of revolution can be useful in helping marketing scholars to engage with the big issues of the day. But we also encouraged work that deals with the various meanings revolution has. Where better to host these exciting discussions than England's first Civic University, and Birmingham Business School, where our vision is to promote curiosity and thought leadership for responsible business. Please join us from July 3rd to 6th 2023 to think about (and maybe start) revolutions!
Call for Papers
We welcomed the submission of Competitive Short Papers which focus on all areas of marketing, including conceptual and empirical papers that develop marketing theory, methodological papers and pedagogic papers.
Papers could be submitted for Oral Presentation in our themed tracks, or to one of our Workshops listed below, which offer the opportunity to come together with likeminded colleagues to share research, set future agendas and make connections.
See the separate Call for Papers for the Doctoral Colloquium.
Workshops
The conference will host a range of Workshops covering marketing theory, methods and pedagogy
Actioning Marketplace Access
Alternative Methodologies to Exploring and Understanding Consumer Research
Blockchain in Marketing: Cryptos, NFTs, Metaverse and the New Marketing Revolution
Eat, Drink and Rise Up! Revolutionary Approaches to Food and Eating
Future Proof: Big Ideas to Address Big Issues and to Help Nonprofits Thrive in a Turbulent World
Let's Get This Party Sustainable Fashion Revolution Started (Again)!
Live Streaming, the New Digital Sphere for Co-creation and Co-consumption – Opportunities and Challenges
Marketing and its Role in the Post-Pandemic Working Life and Management Challenges
Revolutionary Placemaking, Moving Beyond Traditional Frontiers
Revolutionising Marketing Education
Revolutionising Social Media Pedagogy to Bridge the Gap Between Academia and Industry
The 'Home' – Working Revolution: Where Past and Present Collide Towards a Sustainable Marketing Future
The Technological Revolution and Consumer Well-Being
Towards a Better Understanding of Value Co-Destruction in the Post-COVID Era
Transformative Transport Service Research
Using Historical Archives in Marketing Research and Teaching
Vive La Révolution – Calling for Revolutionary Solutions to Consumer Financial Insecurity
Authors should consult the requirements of their preferred workshop(s) prior to submission. In order to aid scheduling, authors should restrict their submissions to no more than two workshops.
Oral Presentation
In addition to the Workshops, Competitive Short Papers on any area of marketing and consumer behaviour will be delivered in a 20-minute Oral Presentation at the Conference in themed sessions.
Key dates:
Final Submission deadline: February 1st 2023
Paper decisions: End March 2023
Early Bird rate deadline: 24th May 2023
Final registration deadline: 2nd June 2023
Conference Dates: 4th to 6th July 2023
Contact address: [email protected]
Guidelines for Submissions
All papers must be submitted online via the AM 2023 website. These must be:
Original;
A maximum of 500 words long (excluding references). Please note that the text of the paper must be copied and pasted into the online submission system, which will limit the number of words to this maximum. Figures should not be included in short paper submissions.
Papers accepted for Oral Presentation will be delivered as a 20-minute presentation as part of a themed session. Workshops will be run to the format specified by the Workshop Convenors.
Authors should ensure that their names or any other author-identifying information are not included in the text of the paper.
Authors will be asked to provide additional information as part of their submission to clarify the stage of their research e.g. conceptualisation, methodological development, data collection, data analysis, theoretical development, or if their competitive short paper is a summary of a full completed paper.
Authors will be asked to provide keywords for their submission.
Number of papers
Authors may submit no more than 3 papers in total and authors are not permitted to submit the same paper to different Workshops and for Oral Presentation. Authors should restrict their submissions to no more than 2 Workshops.
References
References are additional to the 500-word count, and will be uploaded in a separate field in the submission system. References must be presented in APA 7 (American Psychological Association) Style.
For all submissions
The details of all authors must be entered into the online system. Communication will only be with the submitting author. When submitting, please complete all the registration fields and use the same email address consistently as this is the only way the system can contact you.
Please indicate if the submitting author is a PhD Student.
The submitting author will be asked to warrant that they have the authority of their co-author(s) to submit the paper/e-poster, and that they have read and agree to the Conference Terms and Conditions, available in this document.
Submissions will be reviewed, and feedback provided to author(s).
Terms and Conditions
Authors agree to abide by the following terms and conditions associated with submitting a paper for the AM 2023 Conference:
The deadline for submission of papers is Midnight GMT 1 February 2023. All papers will be independently reviewed. Authors should ensure that their names or any author-identifying information are not included in the text of their submission. The language of the conference is English and all papers should be in English.
All papers submitted should follow the submission guidelines provided in relation to references. All author and co-author details will be inputted as part of the online submission form and the Organising Committee will only contact the author who submitted the paper.
The decision of the AM 2023 Conference Chairs in relation to the acceptance of the papers is final.
Authors will be notified of acceptance or rejection and provided with feedback as soon as the review process has been completed.
By submitting a paper to be reviewed, the author(s) are indicating that at least one of the authors will attend the conference and present the paper. Any papers not represented by an author/co-author will not be published in the Conference Proceedings.
All attendant presenters must register for the AM 2023 Conference and pay the registration fee by the required date (2 June 2023) or their paper will be withdrawn.
Successfully refereed papers will be published in the Academy of Marketing (AM) 2023 Conference Proceedings. The Conference Proceedings are registered with an ISBN, and copies of the proceedings are deposited with the 6 UK National Libraries and the Chartered Institute of Marketing Library.
By submitting your paper (Contribution) to the Academy of Marketing Conference:
You warrant that the Contribution will be original, will not violate or infringe any existing copyright or other right (of whatever nature) of any third party; will contain nothing obscene, blasphemous, defamatory, misleading or otherwise unlawful; and will contain no factual statements which are not true or based upon generally accepted research practices; and you further warrant that you have full power to enter into this Agreement.
If the Contribution does not conform to the warranties set out in this paragraph, you will indemnify the Academy of Marketing and University of Birmingham against any claims, loss, injury, damage or costs (including legal costs) that arise as a result of your breach of warranty. You will be responsible (at your expense) for obtaining permission for the inclusion in the Contribution of any third party copyright material.
Copyright in the Conference Proceedings as a whole is with the Academy of Marketing. Authors retain the rights to their individual papers included in the proceedings, and by submitting their work for presentation at the Conference, authors grant a royalty-free, non-exclusive licence to the Academy of Marketing to reproduce the Contribution throughout the world in all forms (present, future and contingent, and including all renewals, extensions, revivals and all accrued rights of action).
The Academy of Marketing will have the right, where we consider it necessary, to revise, edit, amend and correct the Contribution in the interests of the relevance, consistency and quality of the style and content of the Proceedings as a whole. The Academy of Marketing will have the right to decline to publish the Contribution if, for any reason, it fails to meet with our full satisfaction.
The Academy of Marketing, University of Birmingham, their publisher and staff take no responsibility and accept no liability whatsoever for the accuracy, impact, or consequences of any paper published in the conference proceedings, whether refereed or not. Papers reflect the authors' opinions, not those of the Academy of Marketing, University of Birmingham, their publisher, or their staff.